kay..someone asked me for make a guide about how to auto revive

Sooo i'll Teach you guys how to use it.
Steeeeeeeeeeep One

Make Sure you have the Program "UoPilot",i won't post the download link cause i dont know if it's allowed..this program it's like a fake finger

it will send attacks and clicks

okay no more trashtalk
After download it open it.
Steeeeeeeeeeep Two
After you open it click on the tab "General"
Done that you will see "Put Cursor on Target and Press Ctrl+A" like that..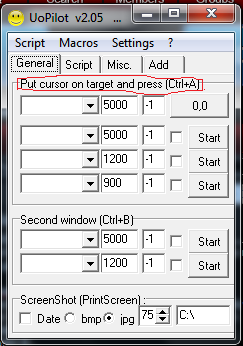 Done This you must die a time
now u ask me : WHY WILL I HAVE TO DIE?!?

i answer you : calm down dude it's just for see the "ok"thing like this..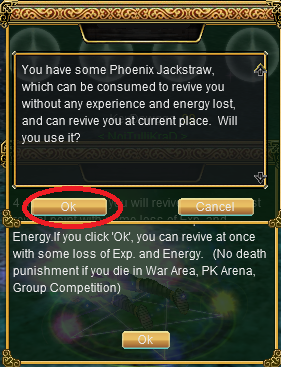 Got it?



ok so here goes the Ctrl+A,Put your Arrow on That "OK" and Press Ctrl+A Simple Huh?
Done that a small amount of numbers will appear just like that,they wont be the same numbers cause every screen has it own resolution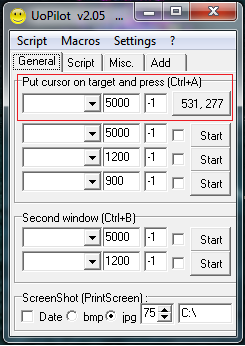 Done that, You change the arrow for "Left Click and mark the box where the numbers are and it will be just like this
Done

ops i'm wrong wait there still a final and a very important step,change it's time to "500" not "5000"

Done that there's still a final step

Press the key "K" , yes it will open the master screen but you will need it cause that was a auto click tutorial,so if you dont press "K" your character will stay walking
so make sure u keep the master screen opened while you do bot
That was all for today comrades
Any question,problem that i can solve PM me here on in TOT , You can Also send me a Mail
KevDawggg