Today I'll Teach you guys about how to remove these numbers from when you bot"l222i22ke22 th2i2s22"

Step #1- Open Your UoPilot...
Change it To the "General" Bar,like this
Step #2 - Fixing Your Interface..
this step it's ....read it xD
#1-Go to The "System" Icon on your interface,right down side like this..

#2-it will open a system screen,done that you click on "Keys",like this..
#3-VERY important so READ IT WITH ATTENTION...this part most of people get confused cause i'm a bad teacher

so i'll try to be clear,you know gonna have to do this every time u want to bot...
your normal set interface it's like this..
after you change ur interface it MUST be like this...

got it ? the keys that was 1,2,3,4,5,6,7,8,9,0 gonna have to be F2,F3,F4,F5,F6,F7,F8,F9
but remember YOU CAN'T INSERT F1 BECAUSE F1 WILL REDIRECT THE KEY TO UR SELF!
now you ask me HEY HOW DID U CHANGED THEM TO THOSE F2,F3,F4,F5,F6,F7,F8,F9 ?

lol...
okay now back to that step when you clicked on Keysthing...
it will open a window like this..
now you change those "Main Hotkey"to F2,F3,F4,F5,F6,F7,F8,F9...
click on ok and it will be saved

Step #3
back to your uopilot,when you didn't used this you used to set the keys for "1,2,3,4,5,6,7,8,9,0" ? Right...
now change them to "F2,F3,F4,F5,F6,F7,F8,F9"

we're done here!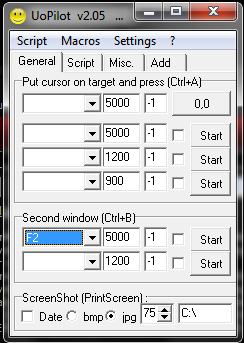 Got it ?

That's All

OBS:WHEN YOU WANT TO SET YOUR KEYS BACK TO 1,2,3,4,5,6,7,8,9,0 YOU GO TO SYSTEM,KEYS,SET TO DEFAULT OR CHANGE THEM BY YOURSELF
that was all for today
bye!

Remember,any guide that you want me to post,pm me here or on tot,i also check my mail every days so you can send me a message there

TOT : KevDawggg <- No more
, Now : Cookies :'D
E-mail :
erick_vinicius_gomes@hotmail.com